The Astonishing Ant-Man 003 (Dec. 2015)
SPOILERS AHEAD! YE BE WARNED!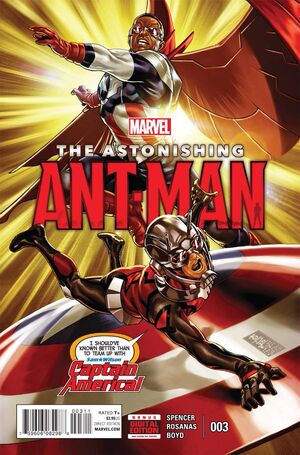 To catch you up…
"When ex-con Scott Lang inherited the mantle of Ant-Man, he swore to clean up his act and do the right thing. A little over eight months ago, he moved to Miami to be closer to his daughter and started his own company, Ant-Man Security Solutions. Everything was peachy.
"Except it totally wasn't! The Power Broker's new Hench app made it easier than ever to crowdsource your super villain needs and allow folks like Darren Cross to make big headaches for Scott on a rapidly recurring basis.
"Just as Scott was on the verge of slipping back into his old rut, Sam Wilson, A.K.A. Captain America, called on his old friend to forget the past and step up for a big-time super hero mission!
"But the past is tough to shake, and Scott Lang ex-con will be Scott Lang current-con before long…" – The Astonishing Ant-Man 003 (Dec. 2015)
003
Scott is on the roof pondering his issues with relationships when Captain America, Sam Wilson, shows up and asks Ant-Man to help out on a mission. The mission is to get on board a S.H.I.E.L.D. carrier and steal something from it. They get on board to stop the Hijacker and they succeed, but Ant-Man picks the wrong box and releases Giganto. Happily, they are able to stop the Giganto before it destroys Miami.
Meanwhile, The Slug and the Power Broker are having a meeting to discuss the Hijacker and the Power Broker finds out there is another app to compete with the Hench app… Lackey. Power Broker blows up Slug's yacht and says it is time to upgrade to Version 2.0.
Ant-Man is getting back into the super hero game when he gets another visit from Beetle. The lady he slept with in Ant-Man: Last Days 001. TO BE CONTINUED…
I love the Hench app and that is now has competition. Ant-Man has some super issues coming his way. I was not looking forward to a Scott Lang Ant-Man, but I like it so far. Until next time.
Related Posts