This post was original posted on Nerd Bacon. Check it out here.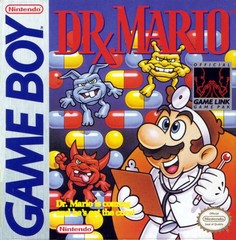 Platform: Gameboy
Developer: Nintendo R&D1
Publisher: Nintendo
Release Date: December, 1990 (North America)
Genre: Puzzle
Rating: 5/10
Reviewed by Jedite83
D℞. Mario is a falling block tile-matching video game, similar to Tetris, in which Mario assumes the role of a doctor, tossing multi-colored capsules into a medicine bottle, the playing field. The play field is populated by viruses of three colors. The player manipulates each capsule as it falls, being able to move it left or right and rotate it 90 degrees clockwise or counter-clockwise. When four or more capsule halves or viruses of matching color are aligned they are cleared from the play field.
Dr. Mario has been ported, remade, or has had a sequel on every Nintendo home console since the NES as well as most portable consoles. Modified versions of Dr. Mario exist as minigames in a number of other games, includingWarioWare, Inc.: Mega Microgames!, Brain Age 2: More Training in Minutes a Day!, and Brain Age: Concentration Training.
For this review I am going to be focusing on the Game Boy port of Dr. Mario.
Dr. Mario has simple, easy to learn gameplay. However, unless your a fan of falling block tile-matching games, it can become repetitive quite quickly.
The graphics are decent, if not a little dated after this many years. I found the screen felt a bit cluttered.
Related Posts