Break-Up Goes South After Girlfriend Steals Over US$800 of Anime DVDs
This was originally posted on Anime News Network and is being reposted with permission.
Gunma Prefectural Police arrested a 23-year-old unemployed woman in Akashi on Saturday for allegedly stealing her boyfriend's anime DVDs. The woman allegedly stole eight DVD sets worth about 90,000 yen (about US$810) from her 49-year-old boyfriend whom she was living with and resold them at around 10:45 a.m. on Friday. According to police, the woman admitted to stealing and reselling the DVDs because she had no money.
According to police, the allegedly stolen DVDs include Magical Girl Lyrical Nanoha and Fullmetal Alchemist, and all of the items were unopened. The man had reportedly previously noticed his possessions were missing, but he filed a report with police on Friday after some of his "most valuable" DVDs disappeared.
Twitter user @wkkazuya, who claims to be the man whose DVDs were stolen, began posting about the case on Saturday. He began by saying, "This is the truth and not a joke." He posted pictures (seen above right, below left) of spaces on the shelves of his DVD collection where he said the stolen items were missing.
@wkkazuya clarified that the woman involved in the case quit her job and was expelled from her previous housing. He then allowed her to live with him as a favor. He said the woman had previously threatened to take the DVDs. According to @wkkazuya, when a detective pointed out inconsistencies in her statements, she confessed to stealing and reselling the items. The man then filed a damage report with police.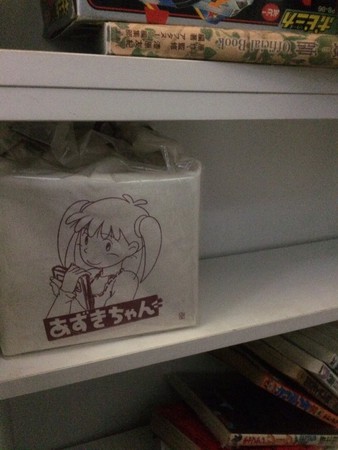 The Twitter user said that some of his most prized DVD sets that the woman allegedly stole were limited-edition Blu-ray Disc box sets of Sora no Manimani, Darker than Black, Android Kikaider, and True Tears. Some of the DVDs were first-printing editions, and some were unopened. He noted that Kobe Shimbun's article on the case disregarded the details of the stolen items and erroneously stated that all of the items were unopened.
@wkkazuya added that the woman had also previously stolen other Blu-ray Discs, but his damage report included only the eight items that recently disappeared. He said that police told him they would look into other incidents separately in the future. @wkkazuya said that the "silver lining" of the situation is that his Tokyo Pig and Azuki-chan box sets that he stores in a different room were not stolen. According to the Twitter user, the Azuki-chan set is extremely valuable.
The man also revealed on Twitter that the stolen items were recovered at a neighborhood GEO store, and police seized them as evidence. @wkkazuya revealed that all of the items that had been unopened had been opened. He added that he is seeking damages related to the case and is currently searching for a lawyer.
Source: Kobe Shimbun via Hachima Kikō (Link 2)
Related Posts