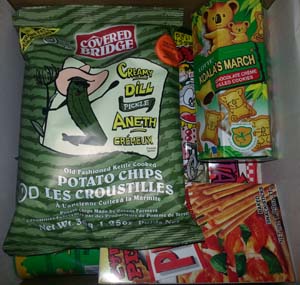 One of our favorite things here at Hacker Labs – The Geek and Otaku Blog is receiving candy to review. Recently a bod chockful of snacks appeared on our doorstep from Munchpac and now it's time to review it.
Zozole – Best we can tell this is a carbonated candy. It had a tasty orange flavor with a bit of bite fromt he carbonation. Whie Jedite83 liked them, The Dragon was put off by the carbonation.
Umaibo – We have reviewed several other Umaibo before and like before The Dragon quite enjoyed it while Jedite83 passed. This one had a nice shrimp flavor.
Abba Zaba Sour Taffy – While it wasn't very sour, Both of us fount it quite tasty. Would buy again.
BA! – This was the least memorable thing in the box. Honestly forgot it was in the box until I was going back through the pictures I too.
Ola Pola – These are Hazelnut chocolate covered waffers. Not to bad, but nothing special.
Koala's March – There are little crackers filled with chocolate. Tey also have a little picture on them. Whats not to love?
Toxic Waste – These were really sour. Both The dragon and I ryed them and neither one of us could stand them for more then a minute. We ended up giving them to a famley member who likes sour foods (he quite enjoyed them BTW.) would not buy again.
Juicy Sour Twists – They were sour, but once it wore off they were a really good candy. Would buy again
Haribo Phantasia – pretty good for gummy candies. would try again.
Creamy Dill Pickle Potato Chips – They tasted just like pickles and the flavor was a little on the strong site. While The Dragon enjoyed these, Jedite83 found them to be (like all pickle flavored things) digusting.
Want to try Munchpac? Follow this link and use the code HACKERLABS and take $2 off your first box.
Related Posts