Marvel's Daredevil S01E02 Review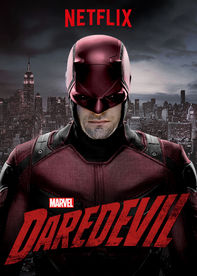 "Marvel's Daredevil" is a live action series that follows the journey of attorney Matt Murdock, who in a tragic accident was blinded as a boy but imbued with extraordinary senses. Murdock sets up practice in his old neighborhood of Hell's Kitchen, New York where he now fights against injustice as a respected lawyer by day and masked vigilante at night.
Starring: Charlie Cox, Deborah Ann Woll, Vincent D'Onofrio – Netflix Marvel's Daredevil
Cut Man
After being lured into a trap by the Russians, a severely injured Matt is found in a dumpster by nurse Claire Temple, who brings him to her apartment and tends to his wounds. One of the Russians locates them, but Matt is able to overpower the man, and tortures him into revealing the boy's location while Claire watches. He infiltrates the building where the boy is being held, defeats the rest of the gang, and rescues the boy, taking him home. Meanwhile, Foggy comforts Karen in the wake of her traumatic experience. – Wikipedia Daredevil (TV Series)
This episode introduces, rather subtly, a veteran of the Marvel universe Claire Temple, played by Rosario Dawson. In the comics Claire is the ex-wife of Goliath (Bill Foster) and former love interest of Luke Cage. She is now in New York cleaning up after the Battle of New York. She is a trained Nurse and it looks like this series is turning her into Night Nurse (BYW Marvel fans, the Night Nurse 001 is listed to come out May 13, 2015), a Marvel nurse who had the habit of caring for injured superheroes even though she did not have any powers of her own. Night Nurse is known for being incredibly intelligent and quick witted. She thinks on her feet even when dealing with some of Marvel's most dangerous. I think Rosario Dawson was made to play Night Nurse. In order to portray her properly you need to have her played by a powerful woman and Rosario fits the bill to a "T".
The side story with Foggy and Karen is cute. I love how Foggy, though he really digs her, doesn't push her to going out with him on a date. He keeps it at a level she can handle. I hope they do more with their relationship, because the two of them working in tandem will probably save Daredevil. Just you wait. It will fall to Foggy and Karen one day. While they are out drinking and having a drunken good time, Daredevil is rescuing a little boy kidnapped just to lure him into a trap. I love the long shot combat scene in the hallway. That was IMPRESSIVE! They did that in one take. ONE TAKE! The stunt team on this show really deserve some applause. Those guys have been bringing their "A-game" from episode 1 and kept going harder and harder after. Action packed? Oh, yes!
This is just turning out to be an amazing show. I really need to start reading the comics. I can't wait until Night Nurse 001 comes out. I hope they stick with Claire as Night Nurse, though bringing Linda Carter (the original Night Nurse) would be pretty cool too. I can't wait to see more! Until next time!
Related Posts