Silk 001 Feb. 2015 Review
SPOILERS AHEAD! YE BE WARNED!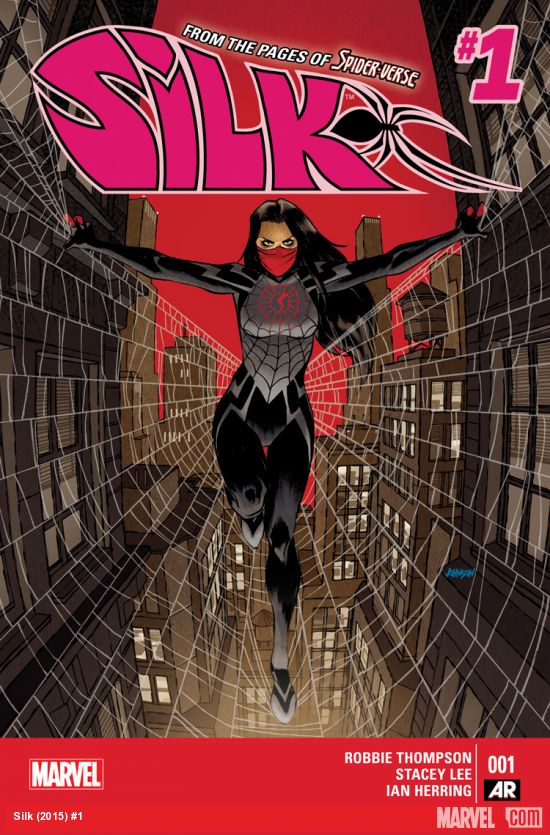 Hacker Labs' Women of Marvel's comic today is Silk 001 (Feb. 2015).
Introduction
Cindy Moon exploded out of her bunker and into the Marvel Universe when we first learned that she had been bitten by that same radioactive spider in the first arc of AMAZING SPIDER-MAN. She then went on to save Peter Parker's life (more than once!) and traverse the Spider-verse alongside Spider-Woman. Now, as SILK, Cindy is on her own in New York City, searching for her past, defining her own future, and webbing up wrong-doers along the way! Robbie Thompson (writer from TV's Supernatural) fills this new ongoing series with his unique blend of antics and feels. Featuring stunning covers by Eisner Award winner Dave Johnson and interiors by future superstar Stacey Lee. – Marvel
001
Silk swings on the scene battleing Dragonclaw ("Is that some kind of Pokemon?" – Silk). I like her style. Her outfit is awesome and she has Spider-Man's wit. She falls from the sky and is caught by our friendly, neighborhood Spider-Man! Her suit comes from her fingertips. That's cool.
Cindy works at a newspaper with JJ Jameson, aka Peter Parker's boss. Cindy pitched the Silk story to him and is now in charge of getting him the scoop. Cindy is beating herself up for her last words to her Mom before she had to lock herself in a bunker. When she emerged she found her family has been missing since she went in the bunker.
As if battling bad guys isn't hard enough, her Spidey Silk-Sense ("Sounds like a shampoo" – Spider-Man) has been going crazy lately. She calls Spider-Man, with whom she used to have a fling, and asked Spidey for his help. He gave it in his own witty way and offered to keep her company. He clearly likes her, but she is not sure about getting involved. Ah, drama.
Enter Black Cat, the lady behind Dragonclaw. Black Cat being unhappy with Dragonclaw's latest mess-up has decided to send him to The Repairman for an upgrade on his gear.
Cindy went back to the bunker to find more information about who convinced her to stay there for 10 years and what happened to her family. The final panel shows Cindy being watched by two unknown people. Could it be the man from the monitor that sent her to the bunker with only supplies and prerecorded messages? Or is it Black Cat's people? TO BE CONTINUED…
I like this one. Silk seems to be interesting and fun. She has issues like real people do, and she seems relateable. I cant wait to see her journey.
Related Posts